The NIRA Skincare Laser is clinically proven to reduce fine lines and wrinkles for visible results at home and without pain or redness.
Using the same advanced laser technology as dermatologists, the NIRA Skincare laser stimulates natural collagen production to naturally renew skin and smooth wrinkles around the eyes.
NIRA's Hyaluronic Acid Advanced Serum provides near-term results while the NIRA Skincare Laser provides dramatic long-lasting results over time. When combined, they offer the fastest acting solution to fine lines and wrinkles. Bundle and save now!
NIRA Skincare Laser

Hyaluronic Acid Advanced Serum

Medical-Grade Power Supply

Free Mobile Coaching App

60-Day Money Back Guarantee

Free US Shipping
Clinically Proven to Reduce Fine Lines & Wrinkles

Stimulates Natural Collagen Production

Easy-to-Use in just 2 Minutes a Day

Without Pain, Redness, or Downtime

Safe for All Skin Types from Light to Dark

FDA-Cleared & Patented Technology

Made in the USA
Sleek & Ergonomic Design

5 Treatment Levels (Low to High)

Indicator Lights

Safety Sensors

Rubber Base

Water Resistant
You'll Look Younger in 90 Days, Guaranteed
100% NO-RISK MONEY BACK GUARANTEE
Safe & Easy At-Home Laser Treatment For

$1,000

4 Payments of $74.50
🌟🌟🌟🌟🌟
"I am DEFINITELY noticing a difference on my creases on my forehead and "bunny lines". Only takes a few minutes every day and worth it!"
- Linda K.
🌟🌟🌟🌟🌟
"I have been using my Nira Skincare Laser from last three weeks and I see visible differences my eyes look more lifted! It is a painless laser tool I totally love it no more laser appointments."
- Zainab A.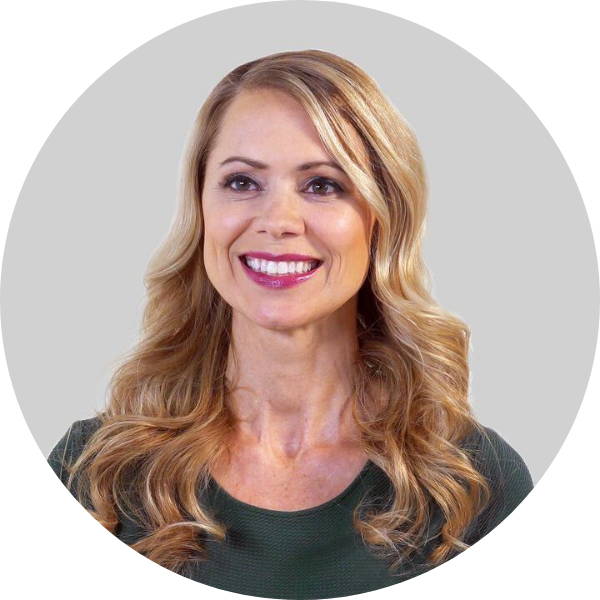 "90 days later I am amazed. Not only because of what I see in the mirror but because of all the compliments I have been getting and all of my friends asking me, when can we get one we need one of these."
"My eyebrow and my eyelid are much more lifted. My eyes have a much more open look to them and I really feel like I can smile again and know that I am going to look great in the pictures."
"People think I look 20 years younger. I often get asked if I am 35, mid 30's because it really works. I am living proof."
Ordinary Treatments vs. NIRA Skin

A typical Dermatologist treatment comes at a high cost after weeks, even months of waiting and scheduling an appointment. Not to mention the harsh side effects, and downtime you may experience following the treatment.
We created NIRA so everyone can get beautiful, younger looking skin at a fraction of the cost,
comfortably in their own home.
In-Office Laser Treatment

$500 Per Treatment
3-5 Treatments Recommended

4 Interest-Free Payments of $74.50 With Klarna

Total Cost:
$1,500 to $2,00 Per Year

Total Cost:
$298 $399 One Time Payment

The device is yours for life.
Free Shipping & 100% Satisfaction Guaranteed

The NIRA Skincare Laser visibly reduces fine lines and wrinkles, leaving you with healthy, youthful, glowing skin.
These are real before-and-after photos from customers. If you aren't as satisfied as these customers are, we'll give you your money back, no questions asked.
Results may vary by individual.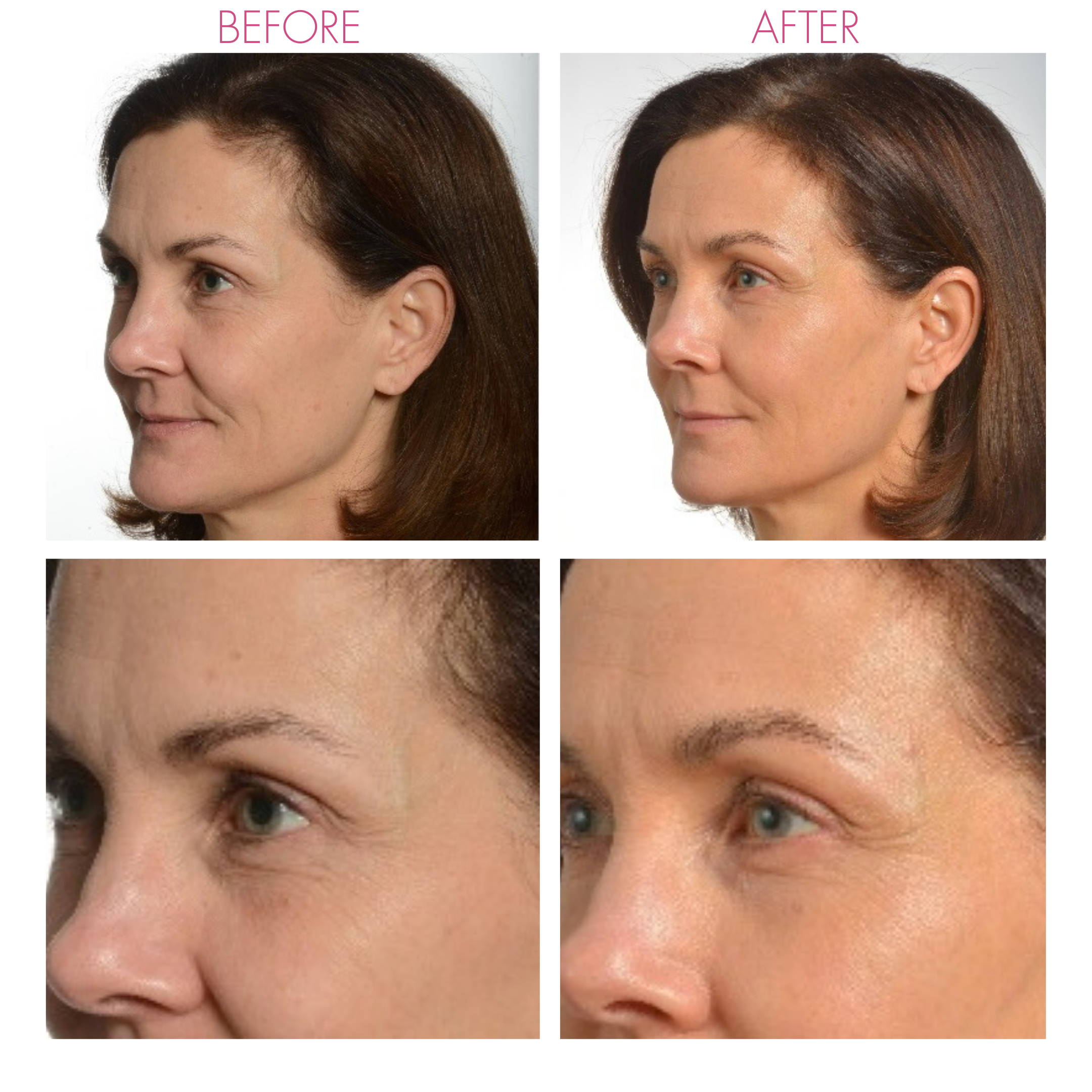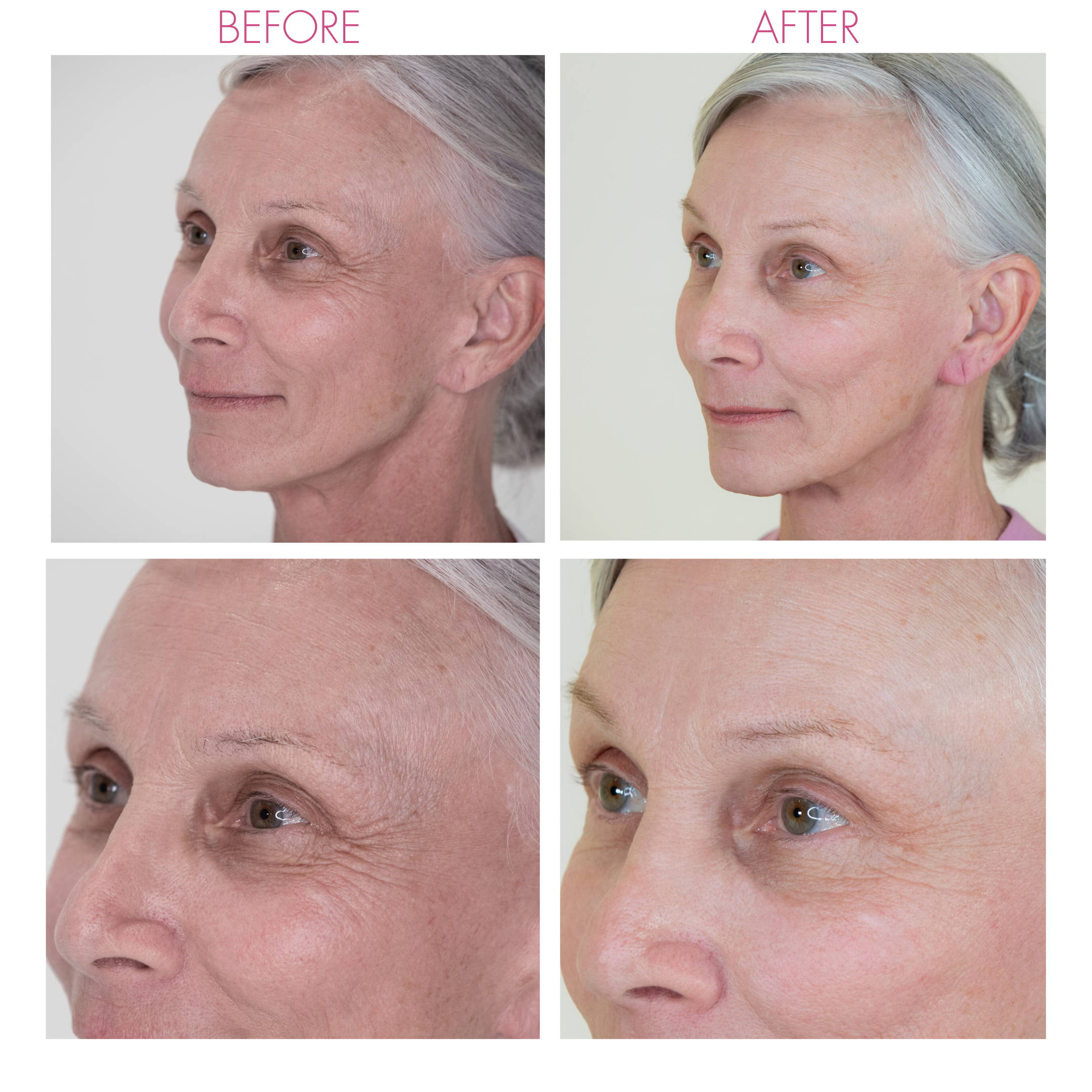 Professionals LOVE the NIRA Skincare Laser

"NIRA is so fast and easy to use.
I use it every night around my eyes."
- Penny Smith, Master Esthetician
Finally, say goodbye to wrinkles.
NIRA doesn't just mask fine lines, it erases them by penetrating deep into the dermis and stimulating natural collagen production and lasting results without tiresome, expensive trips to the Dermatologist.
NIRA's first-of-its-kind home laser treatment device provides the same great results as a Dermatologist in the comfort of your home, at a price you can justify.
For 4 payments of less than $100, you can take years off your appearance.
If it doesn't work for you in the first 60 days - or if you aren't happy with getting younger looking skin in just 2 minutes per day - we'll refund you money, no questions asked.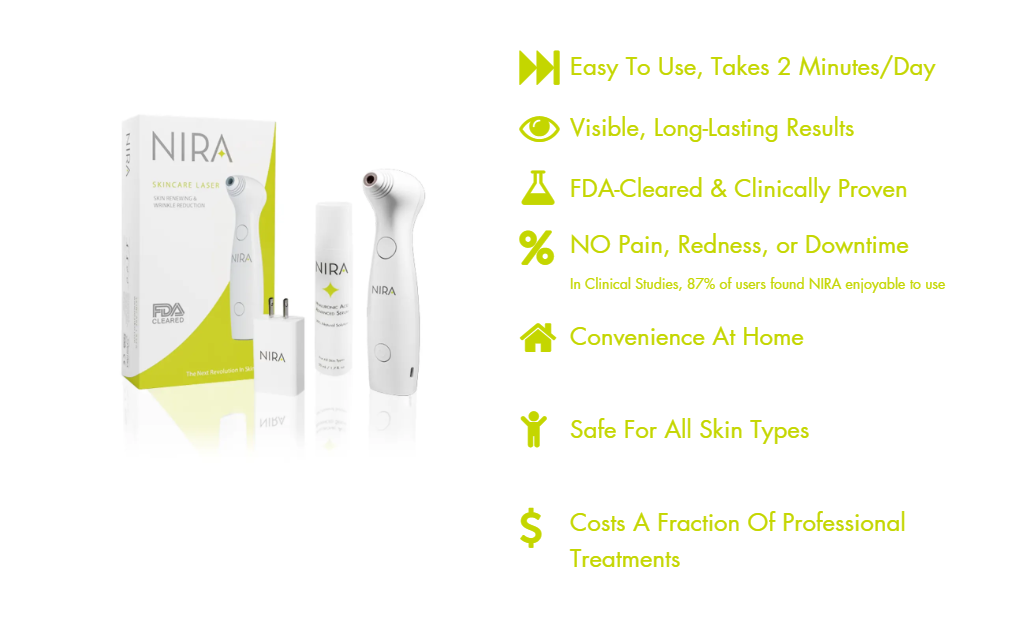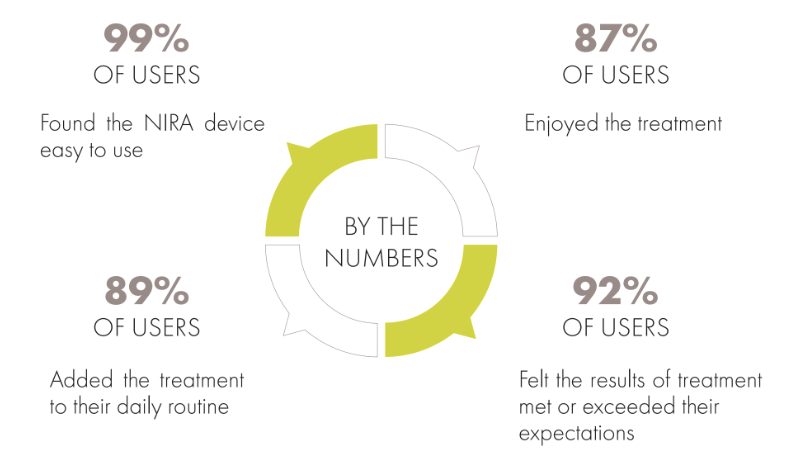 The NIRA Skincare Laser is a clinically studied, FDA-Cleared Home Laser designed & developed by laser experts.
We use the same laser technology as Dermatologists, in a device you can use at home.
Proven by science, & trusted by 1000s of satisfied customers.
Get Beautiful Skin Now, Pay Later

We've partnered with Klarna to provide you with easy payment options at checkout, so you can buy what you want, when you want. It's smooth and simple.
With Klarna and 30% OFF, you can split your purchase into 4 equal payments of $74.50, and spread the cost of your purchase over time.
Enter the credit or debit card of your choice for automatic payments every two weeks. No interest or added fees when you pay on time!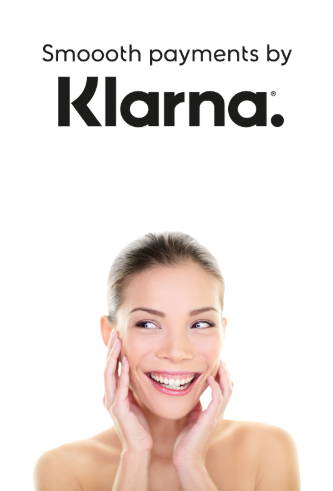 Order the NIRA Skincare Laser & Serum Bundle today for 30% OFF! Start looking younger & feeling more confident.
No Discount Code Needed ●  60 Day Money Back Guarantee