Earn
$30

$40 for Each Unit Sold 

Plain and simple. For a limited time, we are offering $40 commission on each unit sold. Act now to lock in one of the highest commissions paid in the beauty industry!  Commission offer reverts back to $30 May 15.

No percentages
No confusing algorithms
Endless sale opportunities

30-day commission cookie length

10% off discount for your audience
Easy click through link manages everything

90% Off 

Free NIRA Skincare Laser + NIRA Hyaluronic Acid Serum; a $598 Value!
Sign up and we will send you:
Exclusive Media Assets to help you promote NIRA to your audience including: images, videos, technical content
Special Offer of

90% Off 

NOW FREE for a limited time that includes the NIRA Skincare Laser + Hyaluronic Acid Serum sent right to your home
Customized Affiliate Referral link.  Place your personalized link within your social media channels and you will automatically get commissions and your audience will automatically get 10% discounts with every sale.  
When your audience clicks through your referral link, they will see the discounted pricing options below.
With excellent results, affordable pricing, and our money-back guarantee, the NIRA laser is revolutionizing the beauty and anti-aging space. We are so excited to offer you the opportunity to share in our success and help to spread the benefits of our new technology.
Real Users Real Results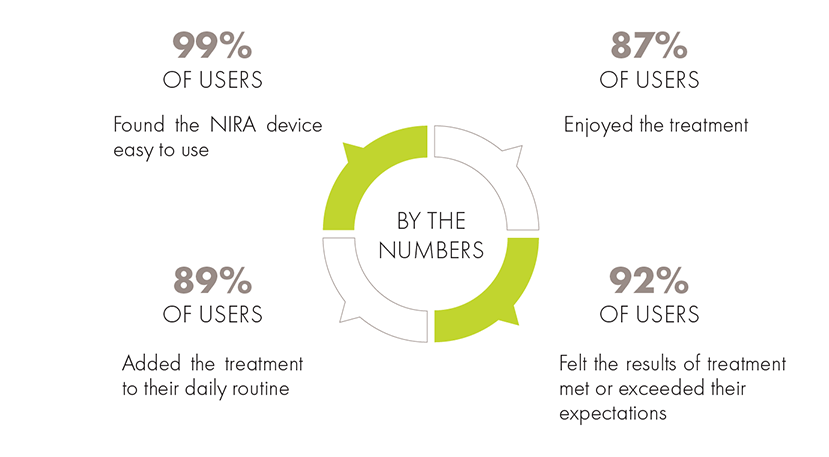 Basic Terms & Conditions
Use the affiliate link within social media tied to NIRA such as after videos, blog posts, written reviews, etc.
No Targeting discount keywords such as 'NIRA promo code' 
No Bidding on
www.niraskin.com
keywords on Bing, Yahoo, Google or any other advertising platform 
No Spam 
No Google Ads promotions 
No direct linking with payment links
By submitting this application you agree to follow and adhere to the Terms & Conditions
FAQs
How does the affiliate program work? 
The NIRA Affiliate program is managed through Refersion where you to earn a $40 flat rate commission whenever a customer purchases a unit through your specialized URL affiliate link. The URL is set up with a cookie that allows you to be credited as long as they purchase the product within 30 days of accessing the site with your unique URL.  This link also provides your customer with a 10% discount when purchasing product through the NIRA website, www.niraskin.com.
How do I know I will be paid for my referral?
You can log-in to your account to see your sales and receive monthly payouts via Paypal.
How much does it cost?
The NIRA Affiliate Program is absolutely free to join. We strongly encourage all affiliates to see their results first hand by purchasing a NIRA Skincare Laser at a deeply discounted price and using the device before informing others about NIRA.  Many bloggers use the NIRA daily for the recommend 90 days and see excellent results.  Taking this approach not only gives you personal benefits, but will give you an authentic voice to generate serious income through affiliate commissions.
How do I set up an account?
When you have decided to join our program you simply hit the apply button. Once you're accepted you will be provided with:
1. Exclusive Media Assets to help your promotions including: images, videos, technical content.
2. Free NIRA Skincare Laser plus NIRA Hyaluronic Acid Serum
3. Customized Affiliate Referral link to p
lace within your social media.  This
 will automatically get you commissions and your audience will automatically get 10% discounts with every sale.  
How do I qualify?
Though anyone can apply, we are looking for established members of the beauty and skincare community who are active through social media and/or blogs. Ideal affiliates will have an established audience with regular traffic to their sites.
We reserve the right to refuse membership or revoke membership any time if we deem it contains or links to objectionable material. Objectionable material includes, but is not limited to, pornography, explicit language or content, violence, discrimination, promotion of illegal activities, violation of intellectual property rights or laws, libelous, defamatory or disparaging materials, or sites with little or no original content.
How do I get started?
1. Fill out the application form.
2. Allow 1-5 business days for us to review your information.
3. Once your application is received, you will be sent a confirmation email with additional information and access to our promotional materials.
4. We will mail out your free NIRA Skincare Laser plus NIRA Serum.  Use the device often and feel free to build it into your social media posts.
5. Place specialized links and promotional materials through your social media accounts (Youtube, Instagram, Facebook, Pinterest, etc.) or place them on your website to direct customers to NIRA.
6. Receive your commissions for every unit sold!